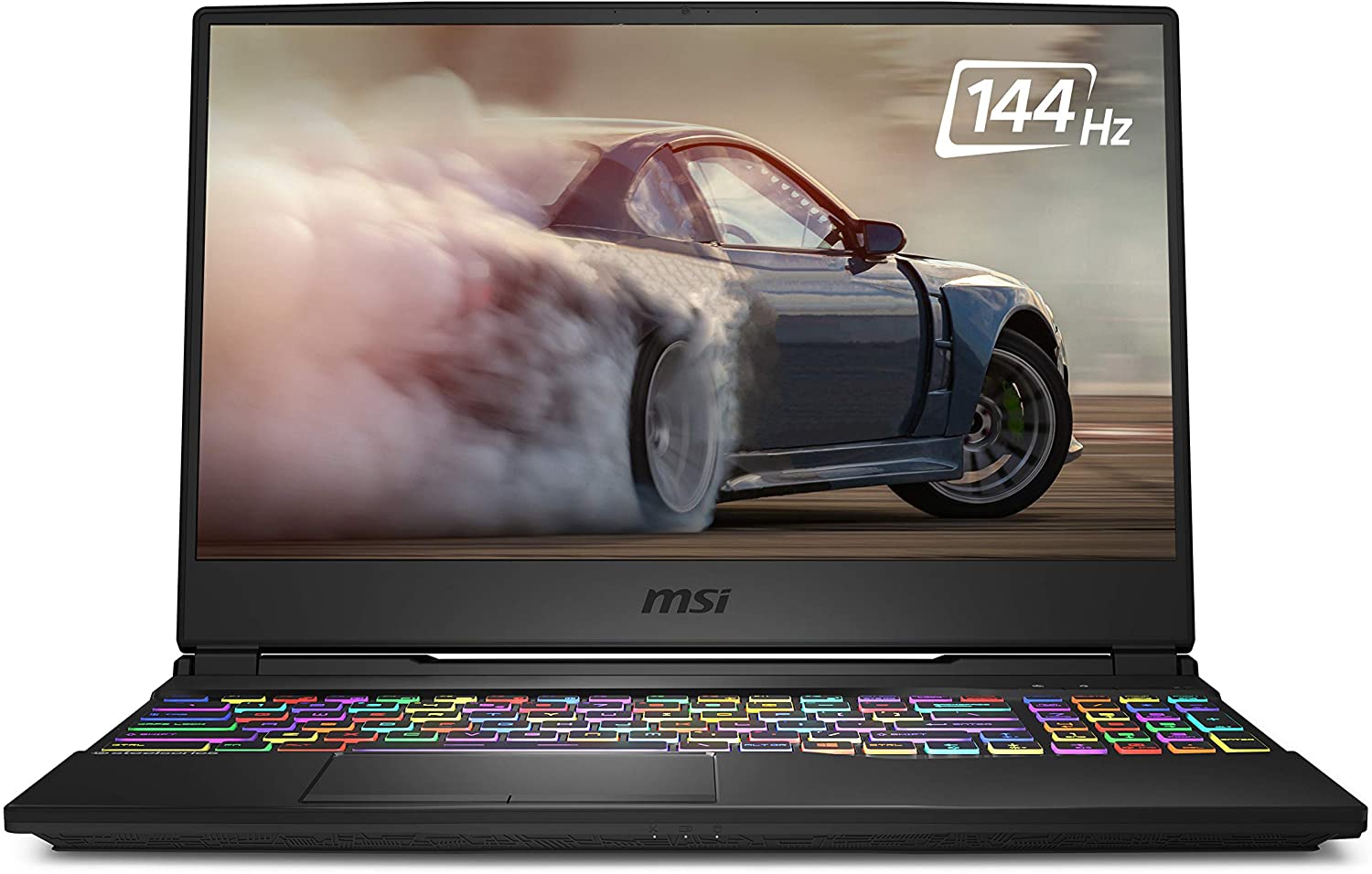 Summary
The MSI GL65 Leopard 10SFK-062 is one of the latest release of the GL65 series of laptops. It is the direct successor of the GP65 Leopard 9SE released in 2019. The new 10SFK-062 is a mid to upper tier gaming laptop that stands out where budget friendliness is concern as it comfortably sits below the price range of all its competitors while still performing equally or better than them for the most part. In this review, we look at the 10SFK-062, inside out.
Intel Core i7-10750H 2.6 – 5.0GHz processor
15.6″ , FHD LG Philips IPS 144 Hz
16GB (8G*2) DDR4 2666MHz RAM
NVIDIA® GeForce RTX™ 2070 8 GB GDDR6 GPU (full mobile variant)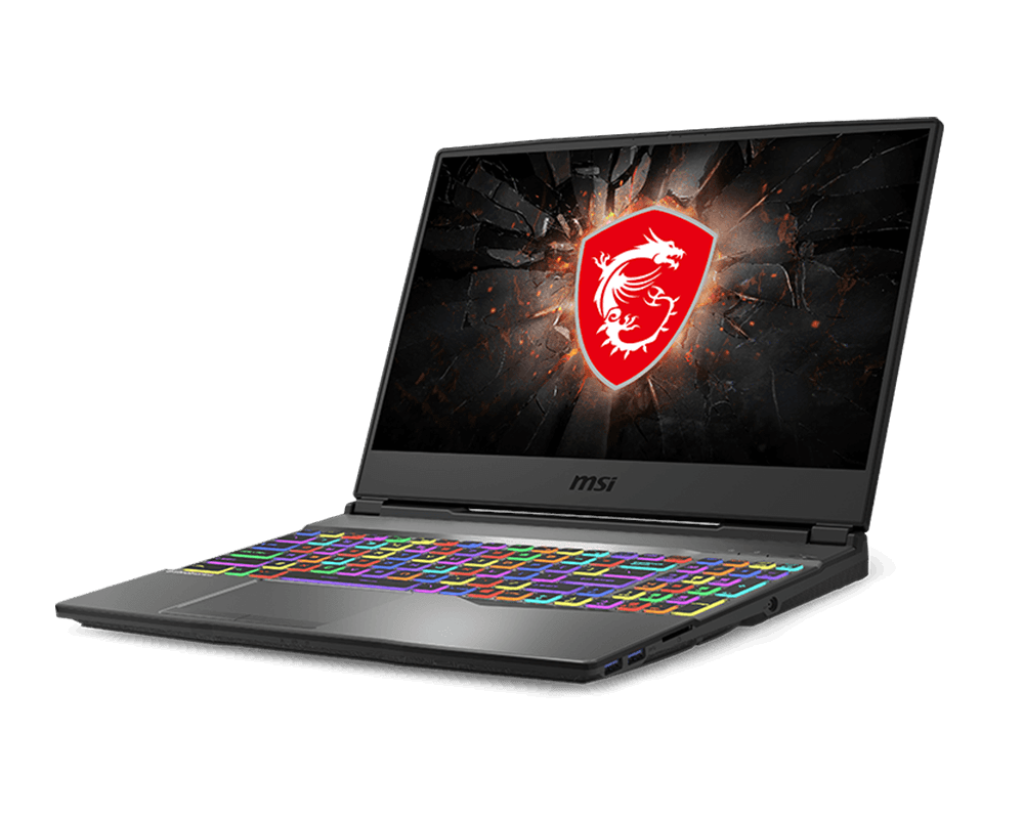 512GB NVMe SSD
Steel Series per-Key RGB with Anti-Ghost key+ silver lining keyboard
5.07 pounds in weight
6 cell (51Whr) battery
3x USB 3.2 Gen1 +1x USB 3.1 Gen2 Type C
720p HD Webcam
SD (XC/HC) slot
HDMI port
Intel Wi-Fi 6 AX201 adapter
BT 5.1 Bluetooth
Below , we are going to examine this laptop to look at some of its most critical areas; build quality , display, processing power, graphics performance, storage, memory, connectivity, maintenance , heat management etc. It will also give our verdict on this laptop as well as its ratings for several popular tasks.
Build Quality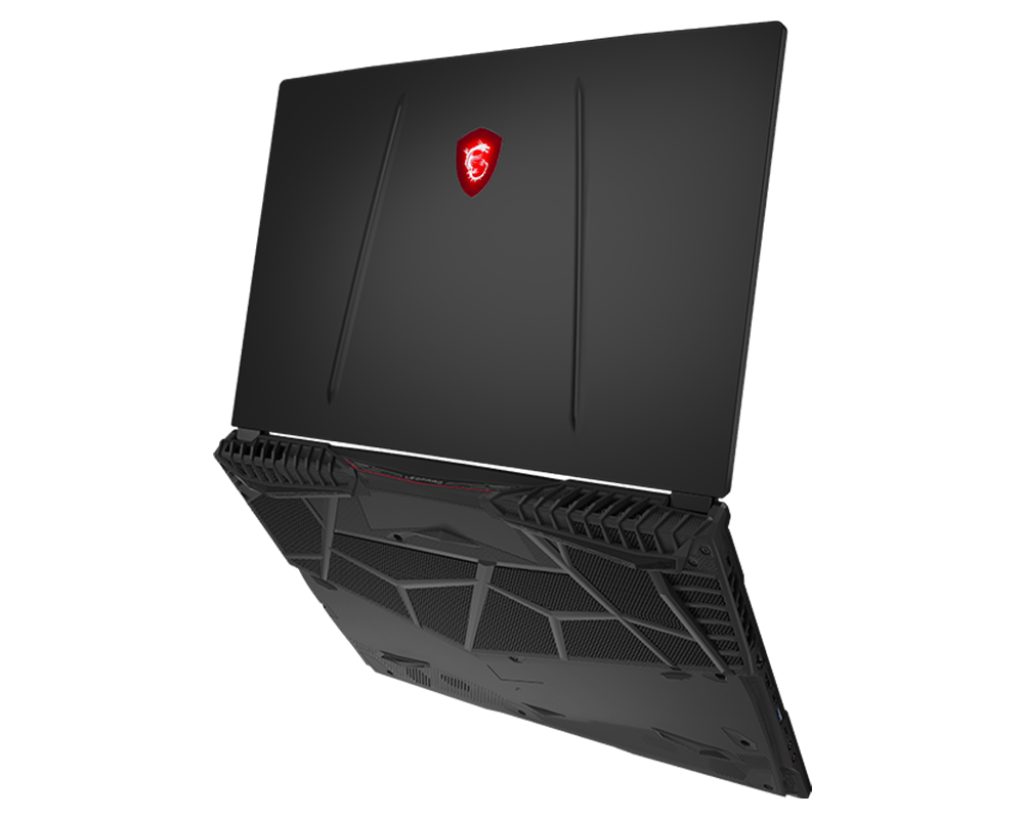 Build quality is very important when selecting a laptop for most if not all persons. When it comes to build quality of the 10SFK- 062, we were sure to examine carefully , the chassis that of course, is a major part of how well built a laptop is. The 10SFK-062 uses the exact chassis that its predecessor used. The chassis is dominantly plastic , with the keyboard rest covered with beautiful brushed aluminum. Though the beauty of this surface finish, a disadvantage of it is that it tends to record finger prints very much. The frame of the lid is plastic and so are the coverings of the hinges that allow you to open and close the display of the laptop. There is minimal flex when the lid is twisted and the hinges of said lid are very sturdy and allow you to almost fully open device with one hand. The hinges of this laptop being strong, should be praised, as several of MSI's laptops suffer from poor hinge design.
Display
This laptop sports the 15.6 inches 1920 x 1080 pixel 141 PPI, LG Philips LP156WFG-SPB3, IPS display with an aspect ratio of 16:9. The display has a similar 144 Hz refresh rate to the display of the older model, but has quite a better response time which makes is a better choice for gamers. As for color accuracy, the LG Philips of this specific device covers approximately 94 % of the adobe sRGB color space , which while a few points lower than its predecessor's display, is still very good and makes this system a decent choice for tasks that require a color accurate display. The concept of viewing angles has become a big determinant in quality of displays; thankfully, the display on this device, thanks to its IPS technology , has done very well in that department.Its viewing angles a very good, allowing you to see content on screen from very wide angles. No screen flickering was observed, but minor back-light bleeding was seen to the lower edge . So what about brightness ? well, that's a very good question because, the display of the 10SFK- 062 is easily brighter than all its competitors' and at 385 nits, is far above the average gaming laptops that have displays closer to 300 nits.
Performance power (CPU,GPU & RAM)
Processor
The MSI GL65 Leopard 10SFK-062 has a lot of power under its hood. It is stocked with the new Intel Core i7-10750H Comet Lake processor. This 6 Core , 12 threaded CPU performs up to 15% better than its 9th generation brother, the Core i7-9750H and almost 30% better than the 8th generation Core i7-8750H. It is important to note though that , this processor, in some tasks, will perform less than the 15% mentioned above and for some tasks, you might even only see gains in the likes of increased clock rates. This is easily understood as the architecture of the Comet Lake, is quite similar to that used by Coffee Lake processors. One advantage that the Core i7-10750H offers, is that its controller now supports the faster DDR4-2933 RAM which can be beneficial in some tasks. See some benchmarks of the Core i7-10750H here .
Graphics card
For high level graphics performance power, the 10SFK-062 relies on the powerful Nvidia RTX 2070 8 GB full mobile variant dedicated graphics card. Built on the 12 nm process, and based on the TU106 graphics processor, in its N18E-G2-A1 variant, the chip supports DirectX 12 Ultimate. This feature also ensures that all modern games run run smoothly on it. The Rtx 2070 mobile performs about 14% better than the Max Q variant , about 22% slower than the desktop variant, and similar to the previous generation GTX 1080 mobile. It however , performs quite better than the 2060 mobile; you can see details here on the comparison. As a result of the slightly faster processor and RAM used in this laptop, you can expect the graphics card to perform a little better than it would do in an older laptop with older processor and slower memory.
Memory (RAM)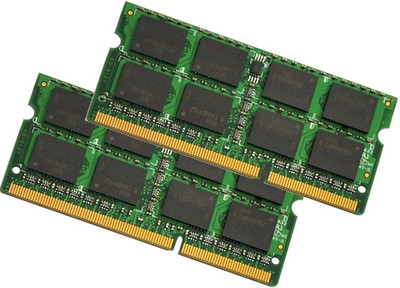 It doesn't matter how powerful the processor and graphics card of a laptop are; without memory, they are useless. This laptop boosts a total of 16 GB RAM. The 16 GB RAM comes in the form of two 8 GB DDR4-2666 RAM modules which sees advantage being taken of the dual channel technology available. Is 16 GB RAM sufficient ? It is perfectly fine for most tasks you use a laptop for these days. You will only need more memory , only if you are into memory intensive tasks such as heavy video editing, rendering , 3D modeling etc.
Storage
The specific configuration of the Leopard 10SFK-062 being reviewed comes with a fast 512GB NVMe SSD as its primary storage. This is enough storage space for many computer users , but for serious gamers, video editors and content producers, unless you plan on using external storage solutions, you will definitely need to add more storage in the form of a 2.5 sata SSD or hard drive in the empty bay available.
Connectivity
When it comes to ports, the Leopard 10SFK-062 has three USB 3.2 Generation ports, two USB 3.1 Generation 2 Type C ports through which this computer can communicated with other devices. Though this laptop comes with many USB ports, we are disappointed with the placement of two of these ports on the right side , near the front of the computer. This itself can be a major task to manage cables, when a mouse or other devices are plugged in. For image output, a mini display and HDMI ports are made available, but sadly, no Thunderbolt port. Where networking is concern, it sports an Intel AX201 network card that supports 802.11ax or Wi-Fi 6 connectivity. It also has a LAN port for wired communication, BT 5.1 Bluetooth, a standard SD card reader and audio input & output ports for audio communication.
Maintenance /Upgrades
Physically getting inside of a laptop is a key aspect of maintenance and to upgrade a laptop. The Leopard 10SFK-062 though is not the easiest to get into as apart from having to remove 12 Phillips screws as seen in the image here, one has to carefully and patiently dislodge the plastic clips that hold the plastic cover unto the rest of the chassis. It is important to note that one of the screws securing this back panel , is hidden under the sticker shown in the image above. This seal represents the warranty sticker; if removed you effectively would have breached your device's manufacturer warranty. Once you remove that back panel, you will have full access to the internal components of this laptop; you can then do several upgrades with your RAM and storage. Here are some possible upgrades you can do:
Increase your computers primary storage space by replacing the 512 m.2 SSD with a larger capacity drive (this would not make much sense though as this drive comes with the Operating system which you would have to reinstall).
Add a large capacity 2.5″ sata SSD or hard drive to the empty bay provided.
Upgrade the memory , for example, to 32 GB RAM ( 2 x 16 GB ). Remember this laptop has only two RAM slots, so you will have to replace the two 8 GB sticks it comes with, to accommodate any memory upgrade that will take advantage of dual channel technology.
Temperatures
In analyzing the thermals of this laptop, we focused mainly on surface and internal temperatures. In tests done, the temperatures of the chassis turned out to be acceptably cool through intense gaming. We had no major discomfort in touching the palm rest or keyboard of laptop that didn't go higher than 51 C in any of the sessions. For cooling , this laptop depends on its two 50 mm fans that cool seven copper heat pipes, connecting to processor and graphic chip. The bottom panel as seen in maintenance module above, is largely occupied by vents that allow air in and out of laptop. This is a major part of the heat management design of this laptop. It must be noted though that with all of those vents , dual fans and numerous heat pipes, the Leopard 10SFK-062 gets pretty warm inside. It's processor especially, when placed under immense load in our stress test, reached a high of 93 C and its GPU, 74 C. These temps especially for the CPU, are pretty high , actually, several digits above last year's model.
Battery life
The Leopard 10SFK-062 is a typical gaming laptop where battery life is concern. With this said, it means you shouldn't expect it to do what the likes of an Aero 15 would do. In very light tasks such as browsing the internet , light word processing etc , on around 85% screen brightness, expect close to four hours battery life. On heavier tasks though such as gaming, video editing etc, where especially graphics card comes into play, expect the battery life to cut by half the time it lasts on lighter tasks.
LaptopDeal's Verdict
The MSI GL65 Leopard 10SFK-062 is certainly not a perfect laptop as it has its flaws like just about any other devices. It's only c concern really, should be the temperatures. Using a cooling pad while gaming and of course a thermal repaste will definitely help to minimize temperatures. There are a few other little things that we wish it had, but let's be realistic, for its price and performance specs, we can't complain too much as no other device at its price at the moment , will perform the way it does.
See price and additional sales information on the MSI GL65 Leopard 10SFK-062 here or at the banner below:
We may earn a commission from qualified sales. This does not cost you a single penny extra.